About Bay Area Older Adults™
Bay Area Older Adults is a charitable 501(c)3 organization that helps older adults improve the quality of their lives.
How the idea came about
Mission
Vision
Benefits of becoming a member
Our Team
Ways to Support BAO
Our Partners
Press Coverage
Governance & Finances
How the idea came about
Bay Area Older Adults (BAO) was founded by Anne Ferguson in 2008 out of her love for her dear grandparents, who passed away a few years earlier. At BAO, we are inspired by our desire to bring joy to and improve the lives of older adults. BAO is Anne's humble offering to the older adult community in the name of her grandparents, Jacqueline and Jean–Paul Latil.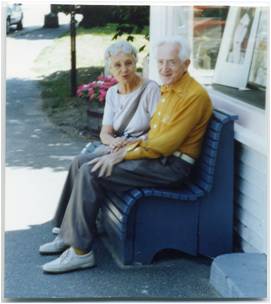 Mission
Our mission is to stimulate the hearts, bodies and minds of older adults through easy access to arts and culture, nature and new friends.
Vision
Our vision is to create sustainable communities of adults age 50+ who participate in healthy activities together, socialize and support each other.
Click About BAO to listen to an interview with Dr. Anne Ferguson, Founder and Executive Director, and learn more about BAO.
For nonmembers and members alike
The information offered through the website includes regional outdoor, outdoor, fitness, social and educational activities. Rather than having to search through different newspapers, newsletters, magazines and a host of different internet sites, we collect all of this information for you, in one convenient location with all the details you need to venture out with confidence. Please visit this link for an example of the detailed information we offer. These features make it easier for you to fill your days with activities and make new friends. For a guide with step by step instructions on how to access the full benefits of the website, please click here.
Benefits of becoming a member
Nonmembers are free to use the website without registering, however, membership is FREE and has important benefits. As a member, you have access to
Comprehensive Monthly Newsletter: highlighting social outdoors, cultural and educational activities around the Bay Area and beyond.
Up to 25% Discount on BAO events
Special Offers from our Partners
Our Team
We are a passionate group of hard-working, highly efficient people.
STAFF
Nusrat Khaleeli Ph.D., J.D., Chief Operating Officer

Nusrat has 14 years of experience managing for-profit and non-profit programs and practicing intellectual property law. Dr. Khaleeli manages BAO's Healthy Living™ Program, legal support including contracts, trademarks, patents and copyrights, and human resources. Previously, she held positions at two biotechnology companies and two law firms, Perkins Coie LLP and King and Spalding LLP. She is a member of the State Bar of California.

Nusrat recieved a Chemistry Ph.D. from Johns Hopkins University. She holds a J.D. from Santa Clara University School of Law where she served as a Technical Editor for the Computer and High Technology Law Journal and received a High tech Law Certificate. She won the Witkin Academic Excellence Award in technology licensing. Nusrat also holds a Ph.D. in Chemistry from The Johns Hopkins University.
BOARD OF DIRECTORS
Anne Ferguson Ph.D., M.B.A. Executive Director, Founder
and Chairperson of the Board

Anne manages Bay Area Older Adults' daily operations, long term strategy, finances, fundraising and volunteers. In order to further advocate for Bay Area seniors, Anne was appointed as a member of the Aging Services Collaborative Leadership Council where she works with other organizations and individuals to provide leadership and build community-wide capacity to support, maintain, and promote the well-being of older adults and their caregivers in Santa Clara County.
In the first part of her career, Anne was awarded two pre–doctoral and two post–doctoral fellowship grants for cancer research and published 15 peer–reviewed scientific articles within five years. She transitioned into the commercial sector where she has more than 13 years of strategic marketing and business development experience within global biotechnology and pharmaceutical companies such as Molecular Devices, MDS Sciex, Thermo Fisher Scientific, Affymetrix and XOMA. At these companies, she was responsible for closing multi-million dollar contracts with commercial and non–profit entities, management of multi–disciplinary project teams and leading development and execution of business strategy and project plans.
Anne received her Ph.D. from UC San Diego, pursued her American Cancer Society postdoctoral fellowship to identify new breast tumor markers at The Johns Hopkins School of Medicine, and completed her M.B.A. at San Jose State University.
Thu Trinh B.S., CFO and Member of the Board

Thu advises Bay Area Older Adults on operations and oversees the finances. She has been a Quality Engineer, Manager and Principle Member of the Technical Staff at Sun Microsystems and Oracle (after Sun Microsystems was acquired by Oracle) for the past 22 years. She has worked with many project teams to launch a variety of hardware and software products. Thu loves the outdoors and sports including snowboarding, rock climbing, ice hockey, bicycling, hiking and more!
Thu has a B.S. in Engineering from Southern Illinois University at Edwardsville.
Kevin Sato, Ph.D., Secretary and Member of the Board
Kevin advises Bay Area Older Adults on program management. Kevin Sato is a project management leader with more than 18 years of experience. He is currently the NASA Space Biology Senior Project Scientist at NASA Ames Research Center, where he leads strategic and tactical planning and execution for NASA bioscience efforts to understand how life responds and adapts to microgravity and the extreme environment of space. Prior to this, he was Chief Scientist at Fully Integrated Life-cycle Mission Support Services (FILMSS) and Project Scientist at Lockheed Martin. He is an associate editor of the Nature Partner Journal Microgravity. In 2011, he was presented with the Silver Snoopy award, which is the Astronauts' own award for outstanding performance, contributing to flight safety and mission success.
Kevin received his Ph.D. in Biology from UC Irvine and pursued his American Cancer Society postdoctoral fellowship at The Scripps Research Institute.
Patricia Shane Ph.D., M.P.H., M.A., Member of the Board

Patricia advises Bay Area Older Adults on all facets of program evaluation. She is a professor, researcher and consultant with over twenty-five years of experience in bio-psycho-social components of health status, evaluations of health care delivery, health and behavioral health outcomes and systems development, especially in efforts to better serve vulnerable populations. Her experiences in the health and social sectors includes evaluation, project management, health policy and systems development with international, national, regional governments and NGOs. Her grants includes work with the National Institutes on Aging, American Psychological Association, California Department of Public Health and the Centers for Disease Control and Prevention among others. Patricia is currently a Full Professor in the Social, Behavioral and Administrative Sciences Department at Touro University in Vallejo.
Patricia received an M.A. in social and clinical psychology from Clark University, and an M.P.H. and Ph.D. in Public Health from University of California at Berkeley.
BOARD OF ADVISORS
Lori Andersen M.P.A., Tactical Advisor

Lori helps us connect to the nonprofit organizations that serve older adults in Santa Clara County and provides feedback on short- and long-term planning. Lori presently serves as Operations Director of Long Term Support Services at the Santa Clara Family Health Plan. Lori has extensive experience in the field of aging with more than 30 years working in public and non-profit organizations in the areas of planning, program development and operation, grants management and fund development. For eight years she served as Director of Planning for the Council on Aging Silicon Valley responsible for assessing the needs of older adults and building community capacity to address them. As Director of the Bay Area Independent Elders Program, Lori managed a $6 million grants program for a foundation collaborative that was designed to strengthen and expand local resources for long term care programs. Prior to joining the Santa Clara Family Health Plan, Lori was Director of the Health Trust's Healthy Aging Initiative, where she built programs for advocacy, caregiver support, expansion of health promotion programs and community engagement opportunities for older adults
Lori holds an M.P.A. from the University of Southern California and a B.A. in Government and Public Administration from American University in Washington D.C.
Bronwyn Barnett M.A., Marketing Communications Advisor

Bronwyn is BAO's marketing communications advisor. She currently serves as Deputy Director of Communications at SLAC National Accelerator Laboratory, where she leads the lab's external communications initiatives. Prior to joining SLAC, Bronwyn managed the marketing communications team at Affymetrix and was responsible for marketing and branding strategy, creative direction, social media, advertising and integrated campaign planning. Previously, she was Managing Editor at Red Herring magazine, a weekly print publication.
Bronwyn holds a master's degree in journalism from Stanford University and a bachelor's degree in English from the University of California, Berkeley.
Lynnette Vega M.A., Program Advisor

Lynnette provides creative and logistical advice on BAO programs. She has nearly 30 years experience developing and directing innovative social, cultural, educational and health-related programs for older adults and adults with disabilities in the Bay Area. She has worked at LGS Recreation, Lytton Gardens Health Care Center and Fair Oaks Senior Center. Additionally, Lynnette is a Community Education instructor for Foothill College's Adaptive Learning Division.


Lynnette has a Masters Art Therapy from Notre Dame de Namur University.
Donors and Sponsors
Bay Area Older Adults™ is a tax-exempt charitable organization, qualified under section 501(c)3 of the Internal Revenue Code. All contributions and sponsorships are tax-deductible. For more information about individual and corporate donations and sponsorships, please visit the donation and sponsorship page
Our Partners
We appreciate the support of our partners listed below.
Governance & Finances
For our governance documents, important policies and latest Form 990 filed with the IRS, please click on the links below.
Articles of Incorporation
Bylaws
Code of Ethics
Gift Acceptance Policy
Form 990